NTUN
NATILLUS TURKISH UNIVERSITIES NETWORK
NTUN is the higher education brand of "Şahinkaya Foundation", launched in 1997, offering wide range of choices to International graduate students, it's the one and only platform representing the most prestigious state and private universities in Turkey.
NTUN is an active member of TURSAB, as well as INETAS and many other local and international associations.
Headquartered in Bursa, NTUN has branches in the MENA Region and ECA Region with more than 90 authorized Representatives.

Mission:

Our main purpose is to help young students make the right decision, to build a solid and enduring professional project, corresponding to their personality and their aspirations.

Services
Direct & fast access to the top 30 universities Public & Private in Turkey.
Having Natillus as your local partner in Turkey.
Special Scholarships offers by NTUN.
Free Agent's training about studying in Turkey.
Special discount on selective dormitories.
7/24 counselling and assistance services during all the duration of the studies:

Municipality and government for residency application.
Academic consulting services.
Accommodation.
Free orientation program
University.
City.
Cultural.
WHY TO STUDY IN TURKEY
Students have many reasons to come to Turkey! Turkey is an attraction to everyone in the world because of the spiritual and physical features which are unique to each single city. Turkey is more than a bridge between two continents. The country has been successful in blending many cultures and being home to cultural and historical richness and legacy for thousands of years.
Press play and find out why Turkey is the best option for you.
"I recently completed my Master at Istanbul Şehir University, a fantastic place to study, work and live. It is very student-friendly city, and my positivity about it extends beyond the University – the city offers a wonderful all-round quality of life. In my time here, I have connected with people in education and outside – Istanbul Şehir is magic. It has good people, a beautiful environment and, to top it all, an excellent University."
QUALITY OF EDUCATION
Turkish higher education system has developed significantly in the last few decades in term of quality. Turkish universities now offer a rich field of choices for international students.The quality of the system is also reflected in international ranking lists. According to The Times Higher Education BRICS & Emerging Economies Rankings 2018, there are 5 Turkish universities in the top 100 university list, (20- Sabanci University – 71 Bilkent university – 72 Boğazici University – 99 Hacettepe University – 114 Middle east Technical University). In addition, 7 Turkish universities took place among the top 800 world universities ranking by Quacquarelli Symonds (QS) in the UK.
There is an increasing number of universities offering programs taught in English, and these include medicine, engineering, humanities, business, and finance. Turkey is part of Bologna Process since 2001 and also a member of many different international platforms. What this means is that, first all students can continue their education in other countries with ECTS (European Credit Transfer System) and second they can get their diplomas recognised by other countries.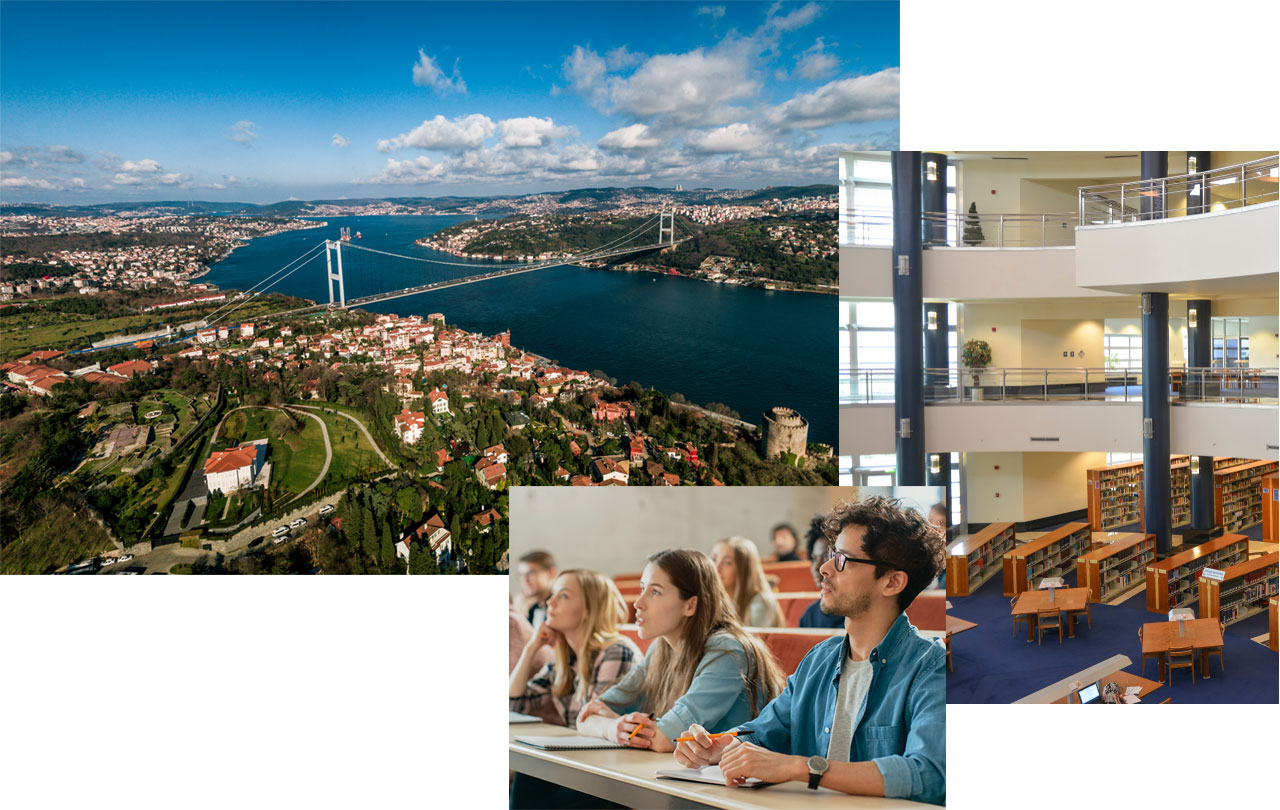 Sabancı University, established in 1994, is a young foundation university located on a 1.26 million squaremeter campus which is about 40 km from Istanbul's city center.
DOOR TO JOB OPPORTUNITIES
Being part of G20 (The 20 largest advanced economies in the World). Turkey is progressing towards being one of the leading economies of the world with its developing and growing economy. The number of global brands doing business in Turkey and working together with Turkish brands is increasing. One of the main questions students will have after graduation is "what is next?" International students graduating from Turkish universities have a lot of options including, pursuing a graduate degree, returning back to home with a widely accepted diploma or finding a job in or out of Turkey, and Turkish job opportunities for overseas workers are mainly unlimited due to the fact that they speak many languages.
SCOLARSHIPS OPPORTUNITIES
The chance to study abroad is a dream for many students, especially in today's global era. According to the UNESCO, more than 125,138 students were enrolled in higher education abroad in 2017,2018, and the number will increase every year. In this challenging global market, there are a wide variety of scholarship opportunities in Turkey available just for Natillus International Students.